Back when I was a resident, there was a popular photo shot from a cellphone camera. It showed 2 of our nursing staff inside the operating room complex standing in front of the window of the NICU. Upon closer inspection, you will be able to see the image of a nun in white and yellow suspended through the frosted glass of the NICU.
This photo got passed on. They assured us this wasn't photoshopped and the one who took it was the chief resident of pediatrics. Although nuns aren't an unusual site in our hospital, our nuns do not wear white and yellow, and certainly will not wear that inside a sterile area as the NICU which was connected to the operating room complex. They will wear a smock gown whenever they were in the premises.
Stories of the supposed nun surfaced since. There were stories of a nun walking through the O.R. complex doors. When a staff member or a doctor would go after her (it is a sterile area), they would discover that the nun would just disappear inside the complex.
Again, I'm not a fan of the supernatural, so I just thought it was interesting and just proceeded to focus on the next patient.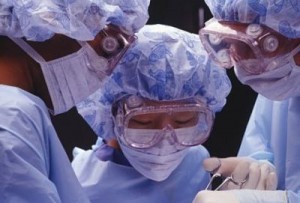 Remer stood on my right side while we were doing a major operation in the dead of  night. From my peripheral vision, someone walked past our operating room. Immediately, Remer whisphered if I saw that. He had a terrified look in his eyes. I replied with a quizzical look. He said it was a nun in white and yellow.
Uh-oh.
This post is tagged doctor, ghost stories, superstition