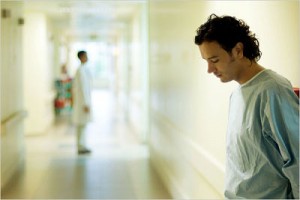 Art Director and the Adventure dude rode with me on the way back home from the capital city last night. There were talks of another party last night (3 consecutive nights of partying for us!). They said that the plan is that there is no plan. So it would be wiser to just knock on my door if there ever will be a party.
At 1:30am, true enough, there was a knock on the door. I spoke in Tagalog thinking it was either Art Director or Adventure dude. However, there was no reply. I thought nothing of it and opened the door ready for some invitation to party. Instead, I see an unfamiliar face by the door – a local teen.
"Doctor, the police is looking for you. Someone got stabbed."
That ended any thoughts of a party.
I told him that I would just change into something more comfortable and would be downstairs. Two minutes later, another knock on the door, this time with someone speaking in my native tongue. Since there were only 2 people who knocked on my door and that the night was quiet, I never expected to see some 10 vehicles parked downstairs of where I live with a crowd of people surrounding the vehicles!!
Whoah. You all panicked and came looking for me???
Roy is 17. He was stabbed on the back and has been coughing out blood since. He had some difficulty breathing but he was stable. I still advised on getting some x-rays and monitoring him since at that point nothing was sure.
During the speedboat ride back to capital city, he remained stable which was slowly taking away thoughts of an internal hemorrhage anywhere.
Upon arrival at the port, there was a new cause for me to be excited – I get to ride a real ambulance for the first time.
Our country prides itself on its health care and our skills as medical professionals. But there aren't too many of these ambulances you see in 9-11. For the most part, we have vans that have been customized to be ambulances. So riding a real one for the first time in a foreign country got me excited.
But let's set my ignorance aside now.
At the E.R., the attending was a Filipino anesthesiologist. It was thus easy for me to endorse the patient to her. However, the ranger said we should be leaving, hence, knowing what would happen to Roy would be something I would have to find out later.
On the way back to the port, I told my companions that back in the Philippines, a medico-legal case such as this wherein an injury sustained on the back signifies that the perpetrator has unsettled score with the victim. His fury is so bad that he had to do it from behind, like a form of betrayal. Like the secret enemy you wished you never had.
"Oh but here in (this nation), friends stab each other on the back."
(To be continued)
This post is tagged back, stab wound