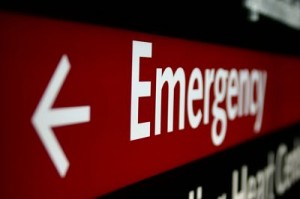 On the speedboat ride back to the Land of Enchantment at 4am, I realized that I was semi-complaining this afternoon that I wasn't able to see the capital city in 45 days and wondered when I would be back. Who would've thought it was only going to be within a few hours?
As soon as the boat slowed down as we approached the port, I looked forward to thoughts of a warm shower and a long sleep. However, what greeted us at the port was a frantic group of people.
Dennis, a 27 year old, figured into a vehicular accident. He used the boss' car and apparently slammed on to a post. The door on the driver's side was a wreck. The boss was the one who saw Dennis unconscious in her car. She advised Dennis' friend not to move him. However, she left him momentarily to get help. When she returned, Dennis was missing.
I advised that we split up in 2 groups – 1 group who would be looking for Dennis, and another group fetching the Ranger so that we can use his facilities for whatever is was that Dennis would need. But searching for Dennis wasn't easy. There was word going round that he was in hiding. Probably because he now realized what he did to someone else's car. So we went around asking people.
Suddenly, a white Toyota corolla. I was suspicious, but then you can never be suspicious with all cars. When a number of people saw us behind the corolla, they immediately told us that they see Dennis was on the passenger seat. Our driver had to chase him and stop him. We finally convinced him to come with us to the Ranger station.
At the ranger station, Dennis was alternately unruly and calm. In other words he was his usual self when drunk. We strapped him on to a spine board and put him on a boat.
While all this was happening, he was saying things like, "Boss, I love you, but I'm broke!"
(Reason why he was hiding and refused medical care.)
Later, at the hospital back in the capital city, he was telling The Girl, "(The Girl), I love you, but I can't afford your love!"
Mwehehehe!
Oh yeah, 3 visits to the capital city 45 days after first coming here, and all within a span of hours.
Rule of 3's again.
Epilogue:
Roy was discharged a day after. So was Dennis. They're both doing well now.
P.S.
Rob, I know you want to be a part of the story, but I couldn't quite fit in there that you drove us around the capital city for a few minutes this particular afternoon. Peace!
This post is tagged vehicular accident